Photonics Days Berlin Brandenburg 2022
4. Oktober 2022

-

6. Oktober 2022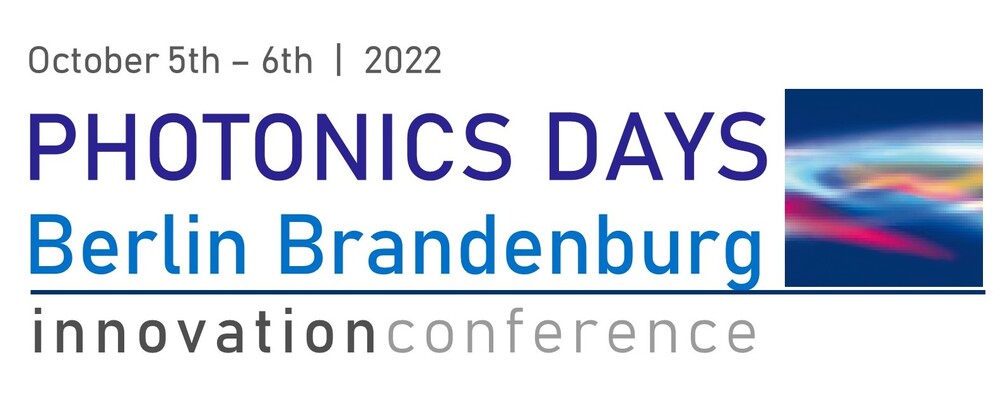 Enabling Photonics!
OpTecBB is organizing this year`s edition of Photonics Days Berlin/Brandenburg as an in-presence event including, seven one-day workshops, two half-day workshops, exhibition and plentiful networking opportunities.
As a bonus and especially for international guests, there are opportunities to tour Fraunhofer IZM the Tuesday before the conference and the Tech Park Adlershof the Friday after the conference finishes.
Berlin/Brandenburg is a leading innovation hotspot in the very diverse fields of Photonics, optics, microsystems technologies and quantum technologies. Berlin Brandenburg is also a start-up hotspot in digital and photonics based technologies.
During this year's Photonics Days Berlin Brandenburg, the discussion will include the latest tech developments, manufacturing, testing challenges and market opportunities with the community of Berlin/Brandenburg based companies and institutes, including colleagues in Germany along with the international community.
Photonics Days 2022 will bring the regional and international photonics community together as well as connecting participants from different sectors and regions, to facilitate cooperation that drives innovation creating value for new Photonics-based value chains together.
GET THE TASTE OF PHOTONICS DAYS BERLIN BRANDENBURG


More Information: Photonics Days Berlin Brandenburg
Photonics Days 2022 is jointly organized by OpTecBB e.V, Cluster Photonics Berlin Brandenburg, and the Enterprise Europe Network Berlin-Brandenburg.